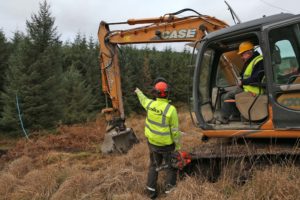 From establishment onwards, there are a number of critical phases in ensuring the best outcome for a forest plantation. To maximise the potential of your woodland, informed and balanced management planning and operations are vital. At Roundwood Forestry and Timber, we place the objectives of the forest owner at the heart of the decision making process. Secondly, we tailor the management of the forest to the specific site conditions, ensuring optimal productivity and growth. Thirdly, we can integrate forest operations and interventions into the management planning and carry out these interventions at the optimal stage.
Forest grant applications
Part of our service includes application for forest road and woodland improvement grants. These grants are invaluable to the forest owner interested in improving the value, productivity and quality of their forest property. Right through from inception to final result, we plan, process and carry out forest road and woodland improvement works while working towards the forest owners specific objectives.
At Roundwood Forestry and Timber, we are dedicated to providing clear and transparent advice and management options to the forest owner through clear communication. This ensures that the forest owner is kept up to speed and can make an informed decision based on best forestry management practice.