Roundwood Forestry & Timber has a long tradition of providing forest thinning and harvesting services in both the public and private forestry sectors in Ireland. Through thinning your forest, there is the potential to significantly increase the volume of timber produced over the forest rotation. A COFORD project report (Thinning to improve stand quality),
comparing volume produced from thinned versus unthinned stands of Sitka spruce, highlights the potential economic advantage of thinning your forest early and regularly.
Roundwood Forestry & Timber is committed to giving forest owners peace of mind that movement of their timber from site to end-user is controlled and accountable. To ensure this, we operate the Forest Sales Dispatch System as designed by the Irish Timber Growers Association (ITGA). This system is designed to aid in the management, accounting and security of timber sales from private woodlands.
Download Forest Sales Dispatch System Here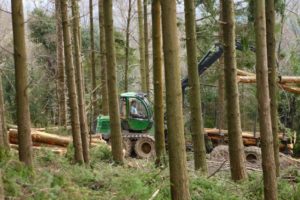 Roundwood Forestry & Timber can also provide a haulage service to woodland owners. This allows us to achieve optimum timing and efficiency in harvesting of timber and movement of timber to the end user in a secure and scheduled manner.
If you think your forest is nearing thinning stage, or if you would like to plan ahead for thinning, contact us for a free, no-strings consultation.